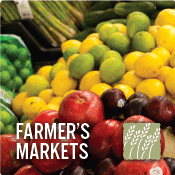 Nothing says summer quite like picking up fresh produce at a Farmer's Market, but fresh fruit and vegetables can be a luxury for families at-risk for hunger. To meet the need in our community and to increase access to fresh produce, Second Harvest launched the Farmer's Market program.
Fresh produce is delivered to our partner charities throughout the summer season to distribute to neighbors in need. The Farmer's Markets are made possible through the Ohio Agricultural Planters Program which distributes surplus produce through the network of Ohio Foodbanks to ensure that local families have access to healthy and fresh produce.
This past year Second Harvest worked with our partner charities in groups or collaborations to more efficiently get fresh and nutritious produce to as many families as possible. In 2014, Second Harvest was able to provide 8,500 families nearly 40 pounds of produce each through the Farmer's Market program.