What Actions Can I Take to Make a Difference?
The 2019 campaign theme will be "We can end hunger one helping at a time."
Feeding America and Second Harvest is asking everyone to take action during Hunger Action Month. This September, we're seeking 40,000 actions from the public – a donation, a volunteer shift, a social media post – ac​tions that will help end hunger, one helping at a time.
Here are a few ways you can help:
Hunger Action Day - September 12:
On September 12th, we kick off our month-long effort to turn the nation orange in support of hunger-relief. We encourage everyone to play a role and show your support by wearing orange! Show your support online too!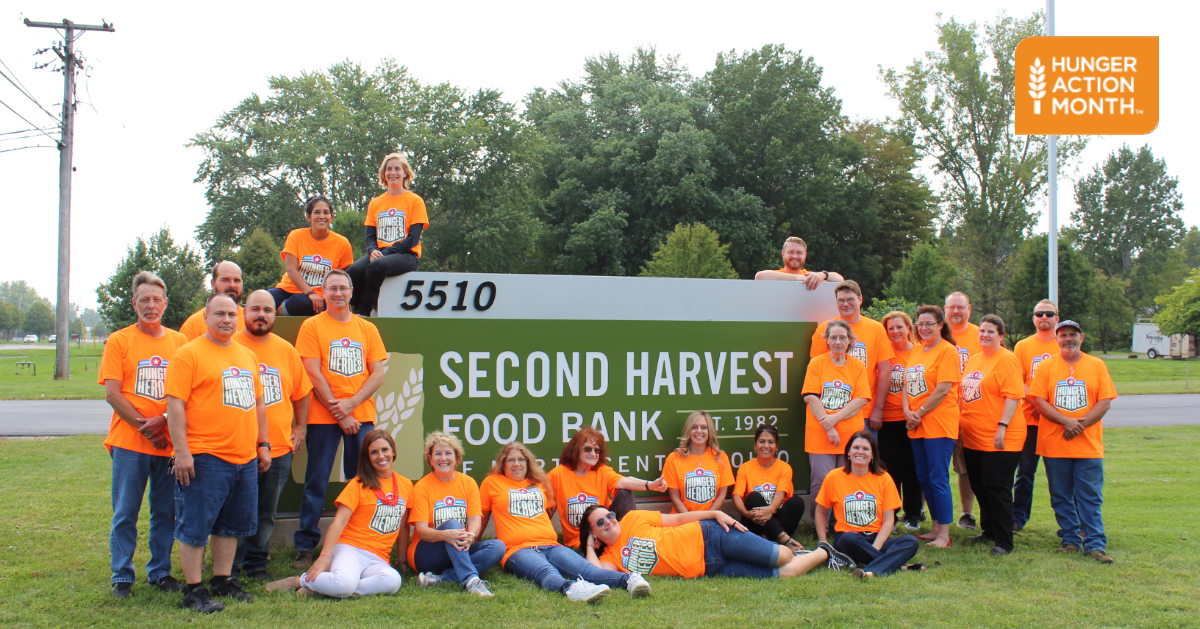 Child Hunger Summit:
Take action! Join us and Ohio's First Lady, Fran DeWine on Thursday, Septmeber 19th, from 8am-3pm, at LCCC's Spitzer Conference Center for your first Child Hunger Summit. Second Harvest believes addressing child hunger must be a priority for our community. This summit will convene partners from across our region to consider the effects of food scarcity on a child's learning, physical and mental health, along with further econmic impacts. Registration is required. This is a no cost event. Lunch and refreshments will be provided. RSVP today!
Take Action Online:
TURN ORANGE FOR HUNGER RELIEF by making your Facebook and Twitter profiles orange on Hunger Action Day, Thursday, September 12th.
DONATE When it comes to fighting hunger, every dollar counts. You can make a real difference for the families in our community who struggle with hunger. For every $1 you give, Second Harvest can provide five meals! Donate TODAY!
Take Action in Your Community/Office/School:
TURN ORANGE FOR HUNGER RELIEF by wearing orange on Hunger Action Day. Share a pic of your orange style socially with @FeedingAmerica and use the hashtag #HungerActionMonth.
VOLUNTEER at Second Harvest and be part of the hunger-relief solution. Lots of opportunites available. Learn more here!
ATTEND our signature event, Generous Helpings and enjoy tasty samples of creations by some of the best local chefs and restaurants in our region!