What Actions Can I Take to Make a Difference?
The 2020 campaign theme will be "We can end hunger one helping at a time."
Millions of families are facing hunger - many for the first time due to the coronavirus pandemic. Hunger Action Month is a time when people all over America can stand together against hunger. Sharing, volunteering, pledging to advocate, fundraising and donating are just a few ideas for taking action this month. Feeding America and Second Harvest is asking everyone to take action to help end hunger, one helping at a time.
So stand up. Get involved. Take action. Here are a few ways you can help:
Hunger Action Day - September 10th:
On Thursday, September 10th, we kick off our month-long effort to turn the nation orange in support of hunger-relief. We encourage everyone to play a role and show your support by wearing orange! Show your support online too!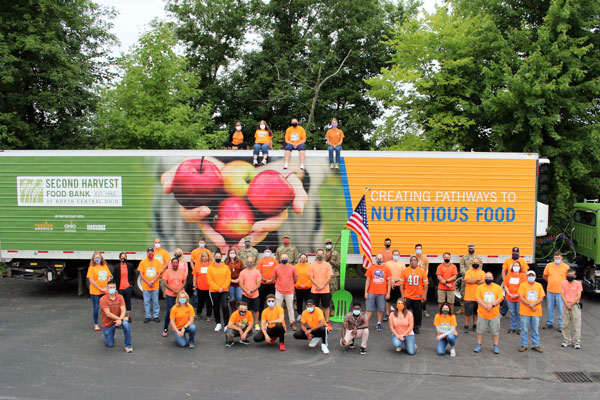 Take Action Online:
TURN ORANGE FOR HUNGER RELIEF by making your Facebook and Twitter profiles orange on Hunger Action Day, Thursday, September 10th.
DONATE When it comes to fighting hunger, every dollar counts. You can make a real difference for the families in our community who struggle with hunger. For every $1 you give, Second Harvest can provide five meals! Donate TODAY!
Take Action in Your Community/Office/School:
TURN ORANGE FOR HUNGER RELIEF by wearing orange on Hunger Action Day. Share a pic of your orange style socially with @FeedingAmerica & @SecondHarvestOH and use the hashtag #HungerActionMonth.
VOLUNTEER at Second Harvest and be part of the hunger-relief solution. Lots of SAFE opportunites available on-site in our new socially distant Repack Room and off-site at one of our many Drive-Thru Mobile Pantries. Learn more here!
ATTEND our virtual event, Generous Helpings @Home ! On September 27th, we're celebrating our 15th annual Generous Helpings event and for your health and safety we are asking you to stay home! We hope you will join us as we gather virtually and raise funds for local hunger relief. More than ever, seniors, children and their families are struggling and we need to continue to be there for them. With every $50 donation to Generous Helpings from NOW until September 23rd, each donor will earn one raffle ticket. Winners will be announced during the virtual presentation on September 27th at 6pm! Join us! We will miss not seeing eachother this year, but we hope you will still log on, tune in, and support our mission!