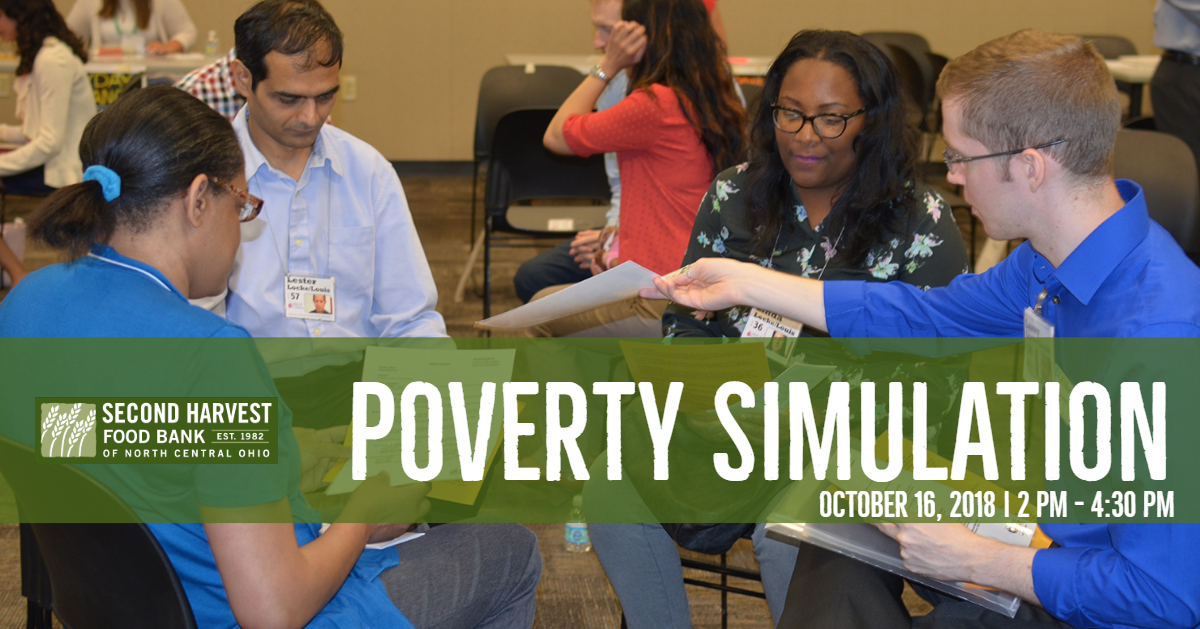 The Poverty Simulation will be held October 16, 2018 from 2PM until 4:30PM at Second Harvest.
REGISTER FOR THE POVERTY SIMULATION

Nearly 40 million Americans, 13 millions of whom are children under the age of 18, live in poverty every day. Many more have incomes above the poverty line, but their incomes are still low enough to qualify for programs like SNAP and Medicaid. Economic uncertainty and slow sustainable-living job creation for the lower class keeps the need for use of emergency food pantries at an all-time high.

It is difficult for those of us who have enough to truly understand the situation that families living in poverty experience every day – the decisions they have to make and the fears and frustrations they feel. That is why we are inviting you to walk a mile in the shoes of those facing poverty by participating in the Community Action Poverty Simulation (CAPS).

The CAPS provides participants each with the opportunity to assume the role of a low-income family member living on a limited budget. The experience is divided into four 15-minute sessions, each representing one week in which you must provide for your family and maintain your home. As one participant commented, "This poverty simulation dramatically demonstrates how much time and energy many families have to give just to survive from day to day. It quickly dispels so many myths and leads to a greater understanding."

We are very happy to be able to share this opportunity with you and are certain you will grow in your understanding and perspective for the plight of those on all sides of the system. As a community, we can then better understand the issue from different perspectives so we can come together producing a positive impact for all.