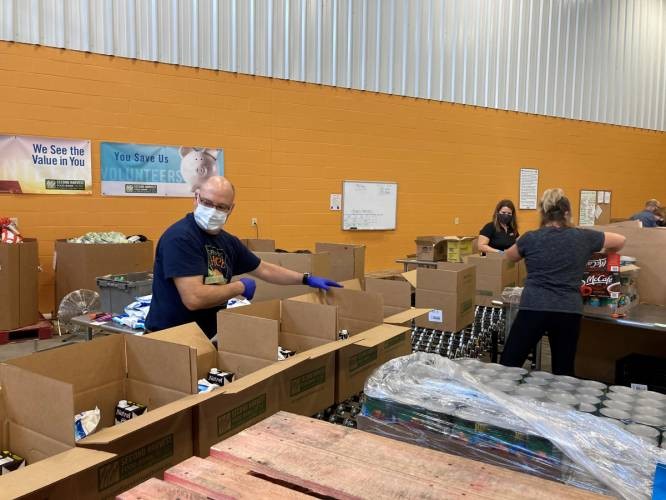 Surviving 2020? It would not be possible without volunteers. Sometimes it seems like everything being said about the role of volunteers at nonprofits is cliché, but...it is true. Without volunteers donating their time and passion to our cause, we could not get food into the hands of children, seniors, and families. Volunteers make it happen. That's why every April, we take the time to celebrate our extraordinary volunteers during National Volunteer Month.
In 2020, the rule book of who, what, when, and where for volunteers was rewritten for Second Harvest. With the shut-down order due to COVID-19 in March 2020, we transitioned away from our traditional way of operating to no-touch, drive through distributions. Our building was closed to the public and that meant that our beloved volunteers were not on property to sort and box food. We would not see most of our regular volunteers again until August when we opened up a few spots at our Mobile Pantry distributions and then back at Second Harvest filling distribution boxes.
To handle the high demand, Second Harvest was very fortunate to have the assistance throughout, of the Ohio National Guard in our building and out at distributions. In our warehouse, they have been packing boxes and helping with warehouse inventory and logistics.
In 2020 and now into 2021, our volunteers include our tried-n-true friends, new friends, the Ohio National Guard, local police departments, Lorain Auxiliary Police Department, Sheriff Departments, State Highway Patrol, City of Elyria and Lorain employees, local youth workforce participants, community crafters and seamstresses (who stepped up with their talents in making and donating cloth masks), and those who reached out to send us messages of encouragement and good cheer during the height of the pandemic. Each volunteer fulfilled a very important task at just the time we needed the help.
To all, we offer you a humble, heartfelt THANK YOU.