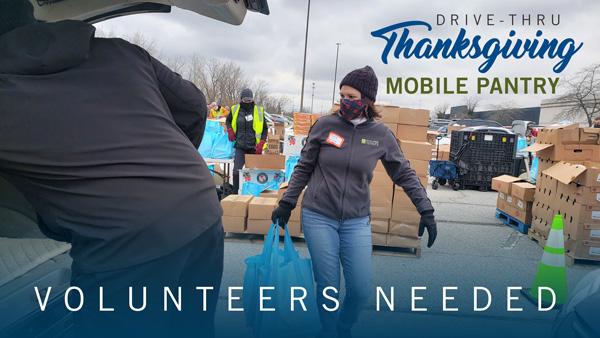 Second Harvest is in need of volunteers to help with our Thanksgiving Drive-Thru Mobile Pantry on Saturday, November 20th, from 9am-2pm, in partnership with Lorain County Community College. Volunteers are needed for numerous tasks to ensure a successful event. Volunteers will be asked to sign-up for the following areas:
Loading Food:
Volunteers stage and load pre-packaged boxes and bags of food with other volunteers into vehicles. Must be able to lift 30lbs.
Traffic Control:
Volunteers are responsible for the pace and safety of the distribution. Volunteers will help assist with directing vehicles in and out of the distribution area.
Car Registration:
Two shifts will be available for this specific volunteer opportunity: 8am-11am | 10am-2pm. Volunteers electronically register community members attending the distribution with Second Harvest's iPads. If you are a new volunteer, Second Harvest staff will provide on-site training the day of the event.
Hurry! These volunteer opportunities will fill fast!
Click HERE to register today!
Volunteer Registration ends on November 4th!



PLEASE NOTE:
All volunteers will need to report to the Volunteer Hospitality Tent 15 minutes prior to the start of their shift for check-in and orientation. Please see the FAQ section below to learn more!
Click on one of the following questions to see the answer about our upcoming volunteer opportunities during the Thanksgiving Drive-Thru Mobile Pantry on Saturday, November 20th, at Lorain County Community College.
Volunteer are a vital part of Second Harvest's strategic plan to provide nutritious meals to local children, families, and seniors in our four-county region. Every time you volunteer, you will leave knowing not only that you have helped to provide food but also HOPE for our neighbors in need.