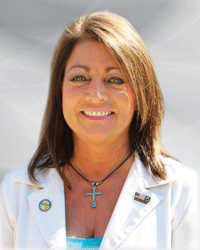 Second Harvest is proud to announce Lori Kokoski, Lorain County Commissioner, as the Honorary Chairperson for the 2018 Harvest for Hunger campaign, which will kick-off at our KickOff Party on February 13 and run through April.
"I am honored to be named the honorary chairperson for this year's Harvest for Hunger Campaign. As Commissioner and as a member of Lorain City Council for many years, I have gotten to work with people from all walks of life and learn about their struggles and issues," said Kokoski. "Food insecurity is real and we need to encourage businesses and organizations to get involved to help Second Harvest Food Bank. Those who care about this area are giving back and raising awareness for the need to help restock the shelves of pantries, soup kitchens and shelters. Knowing that all of the dollars raised locally also stay locally to serve our most vulnerable residents is so important to the success of the campaign. Together we can make a difference."
Lori Kokoski's credentials make her the ideal candidate to head up this campaign. She was elected to her fourth term as Lorain County Commissioner in November of 2016. She was first voted into that office in 2005. Before that, she served three consecutive terms a City Council person for Ward 8 in Lorain. Kokoski has a strong desire to help support those neighbors and friends who struggle with hunger. She regularly delivers meals to home-bound seniors and the disabled. She is encouraging all citizens to become engaged within the communities they serve.